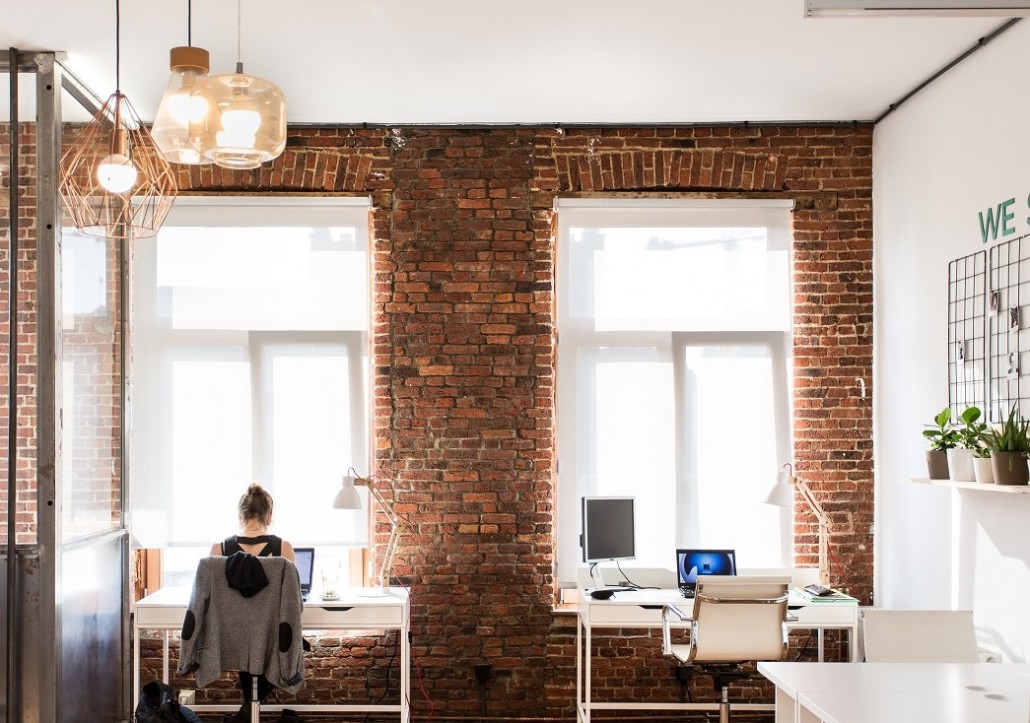 What it's like to cowork at Le Phare du Kanaal.
As a fresh new sailor, I've recently dived into Le Phare du Kanaal's daily routine. Let me tell you how it's been.

How it all started

The very first time I came to Le Phare du Kanaal, it was to meet Thibaud and ask him about his entrepreneurial project and experience. I remember my jaw dropped when I caught sight of the painted facades of the building.
It was the middle of July and we had an interesting chat at the terrace of the café while I ordered and ate a well-deserved breakfast. Thibaud explained that this was not just a café: there was a coworking space upstairs that he regularly went to work to.
Then we met Hanna, the manager. She's easy to spot: she's always there and she tackles several things at once. At the time, I was developing my activity as a freelancer in web communication, and Hanna was actually looking for a content marketer. Later that day, I send her a proposition: she wanted someone with my profile; I was looking for a coworking space in Brussels and willing to make an exchange of services. Two months later, the deal came true and I started to come regularly to Le Phare du Kanaal.
A regular day

I usually arrive early and stay the all day. I tried pretty much all the different workstations at my disposition: the big desk in the middle, one of the small desks next to a window, the armchairs, one of the upstanding desks, you name it! I now found the best spot and seat to be able to work comfortably for a long period of time.
The inside of Le Phare du Kanaal is cosy and yet somehow sober (I didn't know it was possible!). The descriptive keyword that springs to mind is simplicity (it is mainly made of bricks and wood) with a touch of colour and decoration that makes the atmosphere warm and especially welcoming. Clearly, the whole place has been well thought of, from top to bottom and continues to improve as it lives. To me, other senses participate to the warmth of the place, like the smell from the kitchen and the excellent and eclectic music they put on.
In the coworking space, the mood is calm and collected. Near the door, you will find a coffee machine, a kettle, some water and sweets to enhance your productivity. If you look carefully, you will find a few encouraging messages here and there.
[envira-gallery id= »7188″]
On several occasions, I could not help but go down at the café to have lunch. Then there's the counter full of cakes, muffins and pies, and some beverages that I hadn't seen before. All this is pretty hard to resist. Moreover, they cook seasonal and local food with an absolutely delicious result. Sometimes in the late afternoon, we receive some biscuits or other delicate leftover prepared by Julien. Too good to waste! I was even invited to give my opinions on some cookies that he tried from a new recipe.
Special occasions

As a member of the coworking space, I went to two of the sailors' meetings that Hanna organises twice a month (one for breakfast, another after work). I like them a lot because they are the opportunity to really take the time to meet the other coworkers. We usually spend our time socializing and exchanging about our respective projects. On every occasion, I get out of there with a contact or nice tip in my pocket.
On the 27th October, I stayed a bit longer to attend a zero waste conference and saw Le Phare du Kanaal's café in yet a different light: more informal, laid-back, as the café had transformed into a crowded bar. The wind directs Le Phare to various points at different paces. I also notice the difference every time I come to work at weekends: we are fewer professionals and more families and it makes sense, Saturday is brunch day.
A sense of proximity

I met Thibaud, then Hanna, then Céline, Julien, Loic, Ruben, and a lot of other people during a regular day or some special occasions. We all have a lot of projects and ideas, big dreams, ideas to share and a similar perplexity in front of the coworking space's coffee machine.
I would say that one of the place's strong points is the constant will to improve by adapting to the changing conditions, people's ideas, and their own ambitions by making small changes here and there. Adaptability and flexibility are part of the factors that are making Le Phare du Kanaal a success.
And step by step, I think we are building up a community of workers that wants to work differently, more closely in a simpler and deeply human way. We are aiming there and sailing there because we share a vision and a will to come to work as happy human beings.
What about you now? Are you possessed by the spirit of sailing Phare?